Forensic Bill Auditing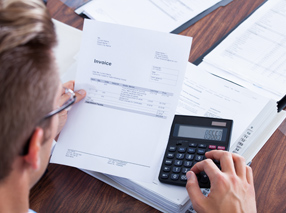 There are many factors that affect the rates paid for indirect cost services. In most cases, organizations do not have the internal resources or the expertise to verify and validate these expenditures.
That's why businesses rely on Utility Advocates Inc. Our extensive knowledge and expertise of rates and tariffs allows us to analyze a wide range of service and utility providers to discover potential refunds, savings and increase process efficiencies. We advise our clients of billing errors and make objective, unbiased cost-saving recommendations.
Our comprehensive Forensic Bill Audit and Verification Services involves thoroughly analyzing your invoices and service agreements for any of the following services: electricity, natural gas, water and sewage, telecommunications, freight, petroleum, industrial gases, courier, waste, scrap metal, chemicals and raw materials.
How Forensic Bill Auditing Can Help Your Business
Ascertain refunds and savings
Based on thousands of client audits for a wide rage of services, we typically find at least 15% savings – but often more.
Eliminate financial risk
It's a win-win. We do not charge fees. We are compensated from a percentage of the results we find.
Our Auditing Process
We look at your business in its entirety, examining invoices and service agreements for up to 11 applicable services.

Next, we review these documents for errors, anomalies, and overcharges during an extensive 30 – 90 day bill audit and verification process. Using proprietary software and system tools to thoroughly analyze every single invoice, we compare your charges against your service agreements, usage demand profiles, and our internal rate database.

Finally, we meet with your team to submit our recommendations and provide an objective evaluation.
Forensic Bill Auditing Success Story
Problem:
A manufacturing client asked us to investigate their natural gas invoices and metering equipment.
Result:
Utility Advocates Inc. recovered $120,873 in refunds for the client.
Synopsis:
During our Forensic Bill Auditing process, we discovered that our client had been billed on estimated meter readings for approximately 18 months up until such time that their gas meter was replaced. We initiated an investigation of the natural gas meter that was replaced with Measurement Canada. It turned out that the gas meter was not registering natural gas consumption correctly and was faulty.  Our analysis revealed that our client's present usage was far less than what was estimated by the utility.  This resulted in a reduction of 233,718m³. We requested a billing adjustment based on the new revised consumption. Afterwards, the utility corrected their invoices and credited back $120,873 in refunds.